Your home entertainment system is the single most important electronic ecosystem you own. Our north Dallas home theater installation and design service is the solution.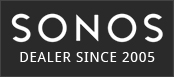 It's your key to relaxation at the end of a hard day, or the ambience of a perfect party. You don't want to leave anything to chance. You want a professional installer to get you the best possible system for the best possible price.
But 71 Audio Video isn't just a Plano and north Dallas home theater service. We offer design advice and placement suggestions to make your dream media room a reality. We can eliminate messy boxes and wires, turning your entertainment system into a sleek, visually pleasing addition to any room. Our professionals can help you realize your design ideas and save money on your electric bills. No matter the layout or the design, performance and value is key to a satisfied customer, and your wish is our command.
Call us today! (469) 608-1971
Your dream audiovisual system is only limited by your imagination.
Starting in whatever room you choose and expanding anywhere you like, we will give you a sound system that plays music in every room of the house, and a video system that rivals the local cinema.

Contact Us »